Even if you're not a limited space gardener, these DIY Flower Tower ideas are a perfect way to add a touch of drama to your home or garden!
1. DIY Petunia Tower
Create an amazingly beautiful DIY petunia tower with just a few supplies. The steps are easy to follow. Click here to see the tutorial post or download the PDF from Home Depot's site!
2. Rustic Flower Tower

For that ultimate rustic style, consider using some old metallic primitive pots to create a gorgeous flower tower. Learn more here!
3. Topsy Turvy Pumpkin Flower Tower
Make a funny looking topsy turvy pumpkin flower tower to showcase your flowers. Watch the tutorial video on Youtube!
4. Pyramid Flower Tower
Use your DIY skills to create a pyramid planter like this. Not only it looks interesting but an amazing idea for those with lack of space. You can grow vertically other shallow root plants like herbs and greens in it too. One of its kind of tutorial is available here to follow!
5. Stacked Plastic Pots Flower Tower

One of the best DIY flower tower ideas to follow for limited space gardeners who want to grow so many plants in so little space. Grab a few plastic pots, a metal rod and of course quality potting soil and your favorite flowering plants. Read the instructions here!
6. DIY Decorative Flower Tower
Create a stunning colorful flower tower to decorate your front porch or a balcony. See the tutorial post and video to learn more!
7. Flower Tower with a Bird Bath
Make this excellent DIY Flower Tower with a bird bath on top using colorful pots with the help of this DIY post!
8. Step Ladder Flower Tower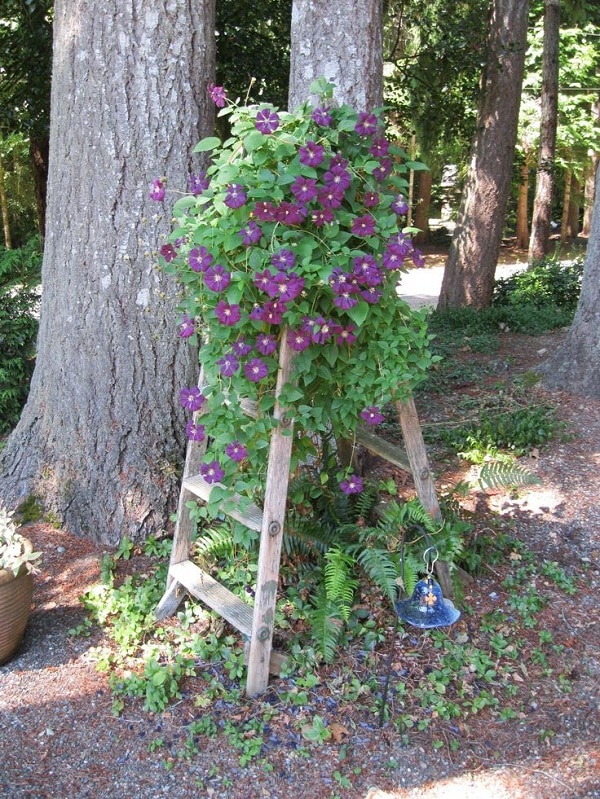 If you've got an old step ladder, use it as a trellis to support your favorite flowering vine, which eventually will cover it.
Also Read: Best Vines for Containers
9. DIY Flower Tower Vertical Garden
Unleash your carpentry skills to create this vertical garden and grow a lot of flowering plants or herbs in it. Click here to see the DIY post!
10. Tipsy Pot Flower Tower
Polka dot pots alone are so beautiful, this tipsy flower tower can add color and elegance to any space you keep it in. See the tutorial here!
11. Self Watering Flower Tower
Learn how to make a self self-watering flower tower to grow your favorite annuals on it. The tutorial is here!
12. Stacked Pot Planter Flower Tower
This DIY stacked pot planter is an easy afternoon project that's the perfect addition to your front porch or patio. Learn more at All Parenting!
13. PVC Pipe Flower Tower
Create PVC pipe planting tower to grow flowers, herbs, greens, lettuces, and strawberries. The tutorial is available at the Instructables!
14. Terra Cotta Pots Annual Flower Tower
Go vertical and add drama to your container garden with this stunning Terra Cotta Pots Flower Tower of annuals. The tutorial is here!
---
Pin it!